WHEN THEY RING THOSE GOLDEN BELLS FOR YOU AND ME
There's a land beyond the river
That they call the sweet forever
And we only reach that shore by faith's decree
One by one we'll gain the portals
There to dwell with the immortals
When they ring the golden bells for you and me
Don't you hear the bells now ringing
Don't you hear the angels singing
'Tis the glory hallelujah Jubilee
In that far off sweet forever,
Just beyond the shining river
When they ring the golden bells for you and me
We shall know no sin or sorrow
In that heaven of tomorrow
When our hearts shall sail beyond the silvery sea
We shall only know the blessing
Of our Father's sweet caressing
When they ring the golden bells for you and me
Don't you hear the bells now ringing
Don't you hear the angels singing
'Tis the glory hallelujah Jubilee
In that far off sweet forever
Just beyond the shining river
When they ring the golden bells for you and me
When our days shall know their number
When in death we sweetly slumber
When the King commands the spirit to be free
Nevermore with anguish laden
We shall reach that lovely Eden
When they ring the golden bells for you and me
When they ring the golden bells for you and me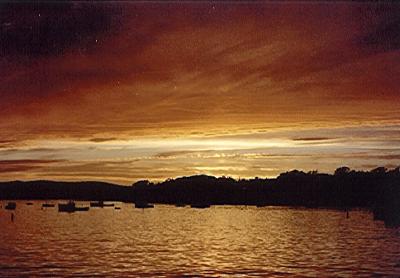 Ron Browning, my husband for 38 years, took this picture of DAWN on the "silvery sea."
Now, scroll back to the top and LETS ALL SING THIS BELOVED OLD HYMN TOGETHER!!!!
---
Ron Browning took most of the pictures that I have shared with you from my personal collection. My good friend Frances (Pierce) Hampson has shared generously. John Bradford (Class of '54) shared many of the pictures on the Florida page. Peggy (Graham) and Ron McClure shared pictures from the 40 year reunion. Several others have promised pictures and I will post them as time and my health permit.
Don't forget to sign OUR guestbook!!
Love to all,
Dodie
If anyone knows the person who made the bell graphics, please let me know, so that I may give them credit for their work.
Thanks to Gene Woolly formerly from Logan, who found the complete lyrics for this old and beloved hymn. This page is especially for Gene and all my friends and classmates from Logan County WV.
Gene wrote: "Thanks for putting me in search of it. I often hum the melody, but didn't know the words."
We all have the words now. Lets join our hearts in prayer and LETS ALL SING THIS BELOVED OLD HYMN TOGETHER!!!!

Have you accepted Jesus as your personal Savior? If you can feel him tugging at your heart strings, just fall on your knees OR lift your hands and heart to him in prayer, right there in front of your computer. Tell him that you believe that he died for your sins and ask him to forgive your sins. It is as simple as that. If you are a Christian, give thanks for his many blessings in your life and pray for others who have not yet found the right road. Jesus loved us enough to forgive our sins and to die for us. He loves you and me and he will never turn us away. He will never neglect us and if we just love him and follow him, some day we will all be at "HOME" with our Heavenly Father and our loved ones who have crossed that "silvery sea."

GOD FORGIVES ALL, IF WE JUST ASK.
---
WILDCATS PLEASE SIGN Our Guestbook
WILDCATS PLEASE VIEW Our Guestbook
Be sure to PREVIEW and then SUBMIT when signing guestbook!
---