????

????
This web site is maintained by Dodie E. (Smith) Browning
(NOT) EVERYONE LOVES A PARADE!!
Homecoming Parade-1952
4 from Class of '55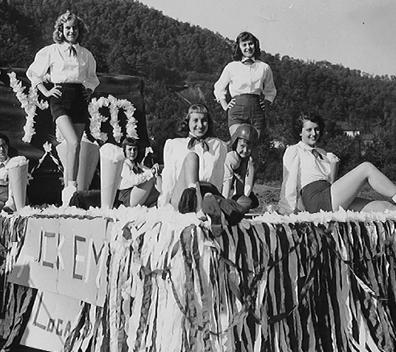 It was a long bumpy ride from the old high school to the Island.
Riding on the back of a log truck was still riding a log truck,
no matter how much crepe paper was on it! (Actually, it was a
Royal Crown Cola truck :)
MY BEST FRIEND (?) (standing on right) complained and I had to give her my seat!
I loved her anyway, and must have forgiven her, because I had forgotten it until she reminded me of it recently :)
(Thanks for the pictures and the reminder, Fran!)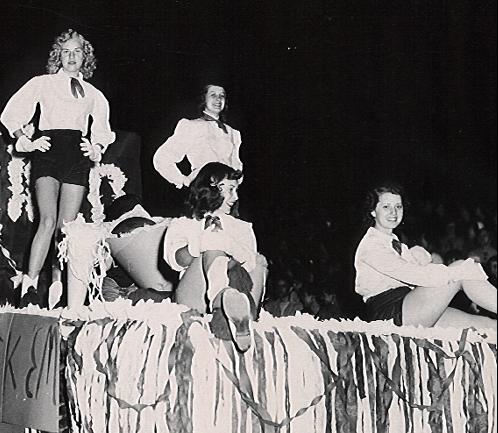 Half Time- 1952 Homecoming Game
She looks happier here and I was still smiling; TRUE FRIENDSHIP!!

Eilene (Spears) Carey was called home to be with the Lord at a very young age. We love you, Eilene and your memory lives on in our hearts.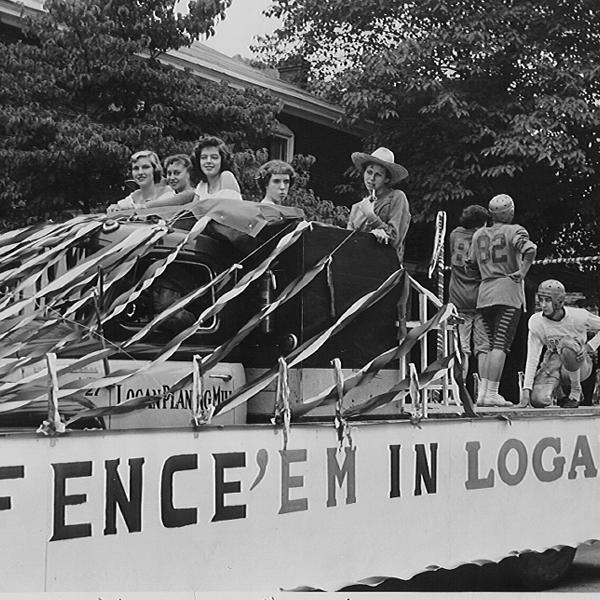 Homecoming 1953- Tri Hi Y float
Sadly that fence wasn't stong enough; The Man High Hillbillies scored the only touchdown of the game, with only a minute and a half remaining in the game. The Gold and Blue received a penalty for "roughing the kicker", giving the "Billies" a first down on the Cats' fifteen yard line. The "Billies" took over the game in two plays. It was the Hillbillies first win against the Wilcats in the history of their long rivalry.
Some Class of '55 Authors
---
WILDCATS PLEASE SIGN Our Guestbook
WILDCATS PLEASE VIEW Our Guestbook
Be sure to PREVIEW and then SUBMIT when signing guestbook!
---